Registration has officially closed for the 2016 Tour.  Thank you to all that are participating in Fort Wayne's premier group bicycle ride.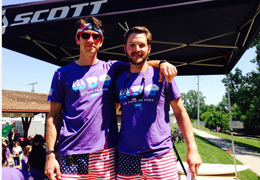 Vince Corona (VP of LTDF) and Joe Wasson (President of LTDF) making magic happen at LTDF 2014.
Since 2009, Le Tour de Fort, LLC has sponsored a bicycle ride and pub crawl in Fort Wayne, Indiana.  Our goal is to strengthen our community, support Veterans and bring people together for an awesome time.
This event is currently the primary outlet that has allowed us to donate over $55K towards Veteran-based organizations that are near and dear to our hearts. In the past 3 years we have partnered with K9's for Warriors and have provided 3 service dogs to Veterans in need. You, along with every Rider that participates in this event will help us achieve that goal.
Registration is OFFICIALLY CLOSED.